KIC InnoEnergy COMFEB
Contact:

Dr. Hubert Keller

Project Group:

ProSys - Process Optimisation, intelligent Sensor Systems and safe/secure Software

Funding:

KIC InnoEnergy
Description:
The KIC innovation project COMFEB ("Camera-based optimization of multi-fuel burners") is a joint project of KIC InnoEnergy SE, KIT, ci-Tec, Opterra, Wössingen, and Unitherm Cemcon Feuerungsanlagen GmbH, Wien. The project is aimed towards determining the fuel and combustion behavior of multi-fuel burners online, characterizing it using appropriate parameters, and optimally configuring the burner. This is the basis for increasing the use of alternative fuels instead of coal.
COMFEB
Mehrstoffbrenner ermöglichen es, neben fossilen auch alternative Brennstoffe für die Verbrennung zu verwenden. Da diese alternativen Brennstoffe allerdings schwankende Eigenschaften aufweisen, ist ein konstanter Betrieb mit hohen Anteilen äußerst schwierig zu realisieren. Ziel des COMFEB-Projektes ist es, durch Verwendung einer geeigneten Sensorik (IR-Kamera) und einer Auswertung mittels Bildverarbeitung, Kenngrößen bereit zu stellen, die eine permanente Überwachung des Verbrennungsverhaltens zulassen. Auf Grundlage dieser Kenngrößen kann durch Anpassung der Brennereinstellungen auf Schwankungen der Brennstoffeigenschaften reagiert und damit ein konstanter Betrieb mit hohem Anteil an alternativem Brennstoff gewährleistet werden.
Die Verwendung einer IR-Kamera ermöglicht hierbei einen Blick auf den unverbrannten Brennstoff, wodurch unter anderem Brennstoffpartikel detektiert werden können (Abbildung 2). Die Detektion des Brennstoffes auch unter schweren optischen Bedingungen (Abbildung 3) liefert die Streichlinien des Brennstoffes und dadurch eine Einschätzung der Flugkurve des alternativen Brennstoffes (Abbildung 4).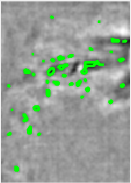 Abbildung 2: Detektion von Brennstoffpartikeln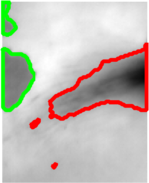 Abbildung 3: Segmentierung des Brennstoffes (rot) bei durch Anbackungen (grün) verdeckter Sicht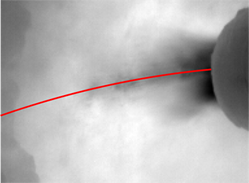 Abbildung 4: Detektion der mittleren Flugkurve des alternativen Brennstoffes