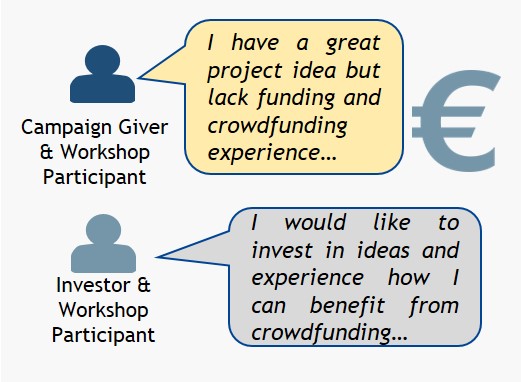 Invitation to the international Workshop "Simulated Crowdfunding" at KIT
Author:

Janin Fauth

Source:

IAI

Date:

22.01.2020

On February 12, the Interreg-project SYNERGY is holding an international workshop on the topic of "Simulated Crowdfunding" in the Gastdozentenhaus at KIT - Campus South and cordially invites all interested parties to participate. The workshop is part of the introduction of the new SYNERGY Crowd Innovation Platform (SCIP) - a free online platform offering various services for crowdfunding, crowdsourcing, micro-working, and research exchange initiatives.

About the Workshop

The "Simulated Crowdfunding" workshop enables all participants to experience crowdfunding as an alternative financing option in a simulated process on our platform and to gain both practical and theoretical experience with crowdfunding. Through interactive discussions and networking activities, participants can receive feedback and suggestions for their own project and innovation ideas, exchange ideas with stakeholders from different industries and organisations and make new contacts.

Who can participate?

All interested parties from research, universities, large companies, SMEs, start-ups, business development, students and the general public who are interested in the topic of crowdfunding.

Campaign Givers

Learn more about crowdfunding by setting up a crowdfunding campaign for your own project or innovation idea in the areas of additive manufacturing & 3D printing, micro & nanotechnology and industry 4.0 on our SCI platform. During the simulated crowdfunding workshop investors have the opportunity to invest in your project.

The SYNERGY project will award vouchers in the value of 2000€ to be redeemed for various services to the first five projects that have reached the assumed budget target.

Investors

Take part in the SYNERGY workshop on simulated crowdfunding and invest with fake money in the best ideas. Experience how crowdfunding mechanisms work, how you could use them in your organisation and how you can benefit from them.

The event will be held in English and participation is free of charge. Registration is possible by 31 January 2020 by e-mail to janin.fauth@kit.edu or clarissa.marquardt@kit.edu. The number of participants is limited - first come, first serve.

More information on idea registration as well as the workshop program and all events can be found in the following invitation or on our SYNERGY website.