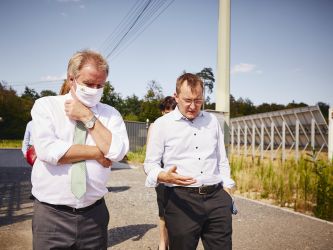 State Minister of the Environment Untersteller Visits KIT
Author:

Source:

IAI, KIT

Date:

18.08.2020

On Thursday, August 6, the Minister of the Environment, Climate Protection and Energy Sector Baden-Württemberg, Franz Untersteller, visited the KIT as part of his summer tour. Among others, the Minister was accompanied by the two members of the state parliament Andrea Schwarz and Dr. Ute Leidig.

Besides to the think tank "Industrial Resource Strategies" and the "Rapid Pyrolysis for Biomass Conversion" facility, they visited the Energy Lab 2.0 and in the SEnSSiCC building (Smart Energy System Simulation and Control Center) and its control room they first found out about the status of the digitization project "Visualization of the Energy Transition in Baden-Württemberg" (ViEW-BW), in which the KIT institutes IISM and IMI as well as the Karlsruhe University of Applied Sciences and the FZI Research Center for Information Technology work together under the leadership of the IAI, before going on a tour, accompanied by Professors Hagenmeyer, Dittmeyer and Hiller, through the Energy Lab 2.0 with its model houses and various outdoor facilities.

The guests were accompanied during the whole tour by the Vice President for Innovation and International Affairs of KIT, Prof. Thomas Hirth.