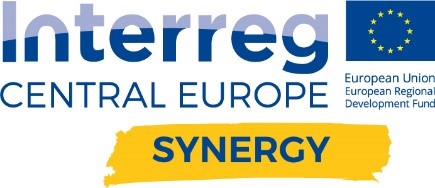 Successful International SYNERGY Workshop on Design Thinking & Simulated Sharing at KIT
Author:

Janin Fauth

Source:

KIT-IAI

Date:

15.10.2018

Successful International SYNERGY Workshop on Design Thinking & Simulated Sharing at KIT

On 25th September 2018, the Institute for Automation and Applied Informatics (IAI) of KIT hosted the international SYNERGY Workshop on Design Thinking and Simulated Sharing in Karlsruhe, Germany. Representatives from industry, business support organisations and research and higher education from Central European countries came together to learn more about the CE Interreg Project SYNERGY (CE 1171) and provide input on the major goal of the project – a crowd-concept based open innovation platform. The SYNERGY Team at KIT was supported by Design Thinking and Crowd-Sourcing experts from Mindshift.One and the Karlsruhe Service Research Institute (KSRI).

43 representatives from six Central European countries Poland, Slovenia, Croatia, Italy, Austria and Germany with a high-tech background in Additive Manufacturing and Industry 4.0 travelled to Karlsruhe, Germany to connect with other European innovation actors, exchange ideas and create new collaboration opportunities. They gained practical knowledge on current crowdsourcing concepts and the Design Thinking approach for generating innovations.

By means of sharing their needs and requirements for an innovation platform, they equipped the SYNERGY project team with a wide range of input from all stakeholder groups that will be used for the actual design of the platform and its functionalities taking place in the next phase of the project. The vast pool of idea concepts for the Synergy Innovation platform ranged from an "iBurrito" to an intelligent, virtual reality-based collaboration platform up to a multi-lingual intelligent and automated matchmaking tool for the high-tech sectors.

Stay in Touch with the SYNERGY Project

SYNERGY newsletter: Sign up to our newsletter via the SYNERGY website https://www.interreg-central.eu/Content.Node/SYNERGY.html

Facebook: https://www.facebook.com/SYNERGYINTERREG/

Twitter: https://twitter.com/synergyinterreg

LinkedIn: https://www.linkedin.com/in/project-synergy-interreg-6b5168155/

About the SYNERGY Project

SYNERGY (CE 1171) is a project financed by Interreg Central Europe that started in August 2017 and comprises 7 project partners from 6 European countries, namely Germany, Poland, Austria, Italy, Slovenia and Croatia. The project aims at strengthening currently underdeveloped linkages, cooperation and synergies between companies, industry, research, intermediaries and policy makers in central Europe. As a result, the project will define new crowd innovation services and test them in different types of pilot actions. In doing so, a new SYNERGY Crowd Innovation Platform will be developed as a space for enhancement in open innovation, crowd funding and –sourcing.