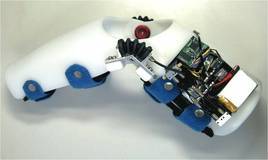 Up to now, possibilities of restoring the grasping function in the case of failure caused by palsy of the motor function of the upper extremities have been very limited. Both, surgery measures (tendon and muscle transfers) and technical aids (neuroprostheses) are dependent on an intact and actively controllable function of the shoulder enabling the hand to be placed freely. Especially highly paraplegic patients who have suffered a complete loss of arm movements and are dependent on whole-time help would regain much of their autonomy and quality of life thanks to a simple grasping function. For that reason, this project was aimed at providing the technical and clinical preconditions for combining active orthesis and functional electrostimulation (FES). A non-invasive, modular hybrid orthesis for the upper extremities was developed in cooperation with the Orthopedic University Hospital Heidelberg. It combines the advantages of mechanical stabilization with an energy- and space-saving generation of movements through a well-directed activation of muscle groups via FES. The drive concept is based on flexible fluidic actuating elements. If available, arbitrarily controllable residual muscle activities were used for control of the orthesis. The project results provide the basis for improvement of other motor functions restricted due to palsy and for control based on movement conceptions using brain-computer interfaces. Granted by the Federal Ministry of Education and Research (BMBF) Framework Programme: Innovative Aids, 2008-2012.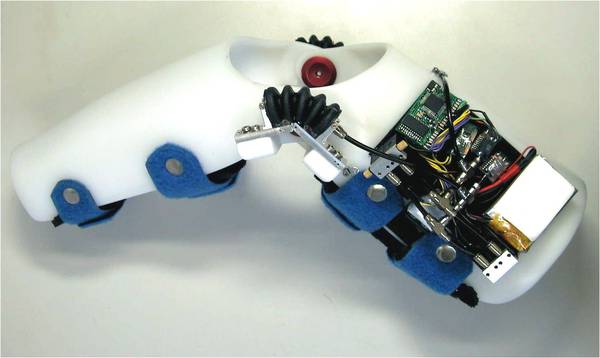 Schill, O. et al.: OrthoJacket: an active FES-hybrid orthosis for the paralysed upper extremity. Biomed. Tech., 56(1):35-44, 2011.
Pylatiuk, C. et al.: Design of a Flexible Fluidic Actuation System for a Hybrid Elbow Orthosis. Proc. IEEE ICORR, pp. 167-171, 2009.
Pylatiuk, C. et al.: Comparison of Surface EMG Monitoring Electrodes for Control of an Upper Limb Rehabilitation Device. Proc. IEEE ICORR, pp. 300-304, 2009.